Hope Fund Sponsor
ARCHway believes in recovery from the disease of addiction.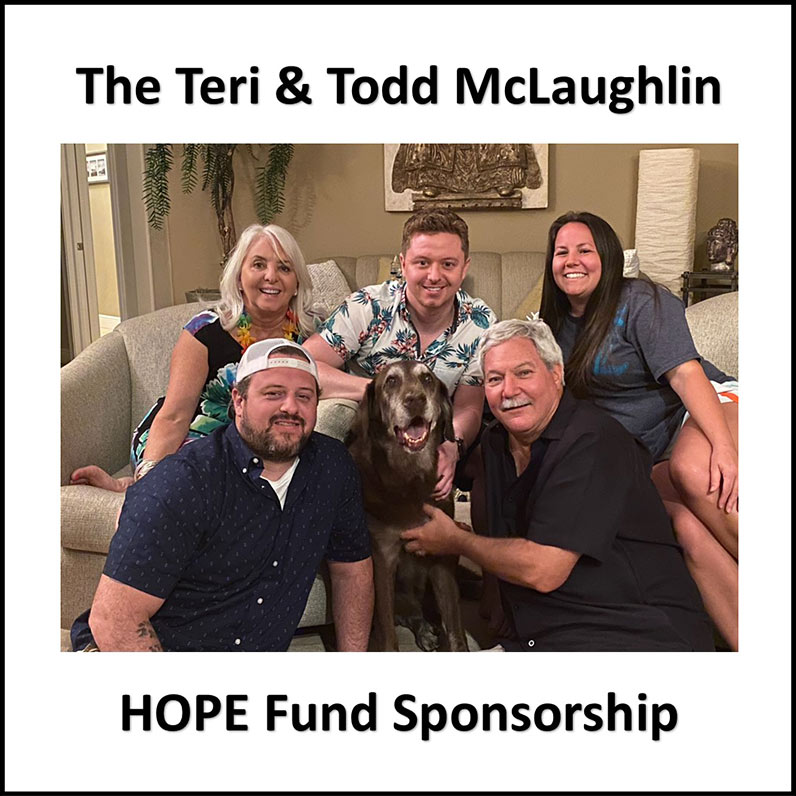 Todd and Teri McLaughlin are proud ARCHway HOPE Fund Sponsors.
The couple found ARCHway when they reached out for support for their son, Cole, who was struggling with heroin addiction.
Todd and Teri did everything they could think of to try to help their son. They tried different rehabs and counseling services, but nothing seemed to be working. They didn't know what to do or where to go for support. They began to lose hope.
Watching a child struggle with a substance use disorder (SUD) is not something you'd wish on your own worst enemy. It is a heartbreaking experience that physically, emotionally, and financially drains you as a parent.
Teri explained that she and Todd kept hoping they were doing the right things to help Cole overcome his SUD. Todd added, "And one of the hardest things to realize is when you are enabling your child instead of helping them." Todd and Teri, out of love and desperation, did enable their son at times, and it was ARCHway that was able to step in and help them stop enabling, as well as help connect Cole to the right resources for support to recover.
Todd and Teri began to realize that what they were doing wasn't working and that they needed to try something different. They sent Cole to St. Louis, Missouri, where he was enrolled in a Medication-Assisted Treatment (MAT) Program and prescribed Vivitrol. In addition, he lived in recovery housing where he was surrounded by peers who were thriving in their recovery.
Todd and Teri also found hope through ARCHway when they heard the ARCHway story and the stories of others who were in recovery. Teri said, "We found comfort in knowing that there were people who had been where Cole was and who were now living functional lives." Better yet, these individuals were determined to help their son succeed.
Today, Cole is in long-term recovery. He has a stable career and, soon, he will get to experience the joys of fatherhood. Teri said, "If it wasn't for ARCHway, Cole probably wouldn't be alive today."
Having witnessed the hope and healing that ARCHway can provide for families like their own, Todd and Teri were fortunate and happy to be able to contribute to the organization. They started a HOPE Fund in 2021, so that ARCHway can continue to help people on their journey to recovery.
Todd and Teri both shared that paying for recovery housing and MAT treatment can be very expensive, so they hope the funds raised will continue to go towards those living expenses and the treatment necessary for recovery.
They'd also love to see the resources going towards educating families and helping them see that they are not alone and that there is hope for them as caregivers. Due to stigma, Teri explained how difficult it was to admit to family and friends that their son was struggling with SUD. Their hope is that through education, more people will feel comfortable reaching out for support and getting the help and the treatment they need.
Todd and Teri's message is to never give up hope. There is help and there are resources, and thanks to the Todd and Teri McLaughlin HOPE Fund, more people will have access to those resources.