2023 Holiday Hope Campaign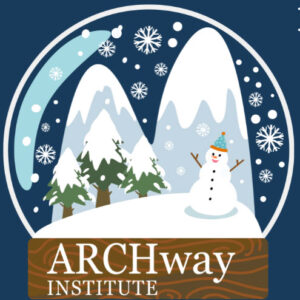 Give the Gift of Recovery this Holiday Season
The Annual ARCHway Holiday HOPE Campaign, December 14th – 21st
Our Goal is to Raise $30,000, including a Matching $15,000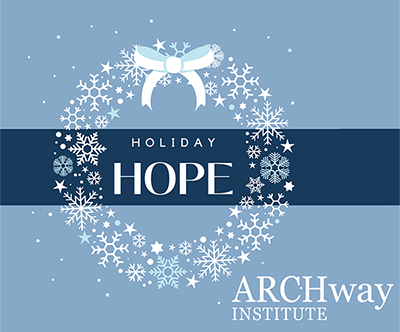 The ARCHway Institute announces our annual Holiday HOPE Campaign. Monies raised will support ARCHway's efforts to provide education, peer support, financial assistance, and peer workforce development, increasing access to long-term recovery for those impacted by substance use and co-occurring mental health disorders. Our goal this year is to raise $15,000, which will be matched by Crickette Brown Glad ($5,000), the Ben Lucas Foundation ($5,000) and Jan & Dan Stuckey ($5,000) for a total of $30,000!
The Holidays can be a difficult time for families impacted by addiction.
ARCHway's Advocates for HOPE Program is Here for YOU this Holiday Season
If you or someone you love is currently struggling with addiction, reach out to one of ARCHway's Advocates for HOPE for peer support and connection to resources for treatment and recovery.
Relapse Prevention Education at your Finger Tips
If you are working on your own personal recovery, ARCHway has a variety of Relapse Prevention materials that we welcome you to view HERE. Family members, these materials are great for you as well as you try to help your recovering loved ones navigate the holidays this year.
ARCHway will award an initial $10,000 in grants during the month of December, as well as reserve funds for emergency help to individuals to get through this time. Recovery-oriented systems of care can apply HERE.
Learn how your Donations are Helping Individuals Recover
Throughout the month of December, we will be sharing Stories of Recovery. Recovery from addiction is very much possible when individuals are provided with the right resources and support. For many, that means a combination of treatment and recovery support services like housing, peer support, family counseling, and more. At ARCHway, we strive to arm people with ALL the necessary treatment and recovery resources that are available. Stay tuned for these recovery stories of HOPE!
You Can Help!
Donate Today! You can choose to pay online using the form on this page or send your check to ARCHway Institute, c/o Holiday Campaign, PO Box 109, Rock Creek, Ohio 44084.
Like ARCHway on Facebook and Instagram! Share our Holiday HOPE content and Stories of Recovery, run a personal Facebook Fundraiser, or share ARCHway's Holiday HOPE Facebook campaign.
Shop our Holiday Travel BUY NOW Event. A variety of vacations are listed at a limited discounted price. Find one for yourself or to gift to your friends, family, and loved ones for the holidays.
Consider setting up a monthly donation of $10 to $100, as this will help ARCHway better plan how to serve the community through a consistent monthly income. Remember that:

$10 a month pays for peer support through ARCHway's Advocates for HOPE Program for and individual or family. This program is completely free to those who reach out.
$25 a month pays for mentorship for a new peer support workers through NPRA – providing both personal and professional development to those in recovery who are working on a sustainable career as a peer support worker.
$50 a month pays for initial costs of putting on an in-person educational event to raise awareness and diminish stigma surrounding addiction and mental health disorders.
$100 a month pays for over a month of recovery housing for an individual seeking recovery from addiction.

 You can also consider supporting ARCHway through your estate planning and join the ARCHway Legacy of HOPE Society. To learn more about the Legacy of HOPE program please contact Dan Stuckey at dan.stuckey@thearchwayinstitute.org or call him at 314-452-4982.
Pass our message forward! Share ARCHway with your family, friends, and loved ones this Holiday season. We are here to help, and we are here to share the hope that recovery is, in fact, possible!
Thank you, in advance, for your support. We appreciate your generosity during this special time of year. We wish you a very Happy Holiday Season!
Avoiding Relapse During the Holidays
Peer Support Specialist Colton Baker talks about why the Holidays can be so stressful with a high risk of relapse.
Peer Support Specialist Jordan Hampton talks about why the Holidays can be so stressful with a high risk of relapse. He then goes on to talk about having a prevention plan in place during the Holidays to avoid relapse.
ARCHway Board Member Brian Sieve talks about why the Holidays can be so stressful with a high risk of relapse and about having a prevention plan in place during the Holidays to avoid relapse.