Wilbur Smith, Journey in Recovery
Stories of Hope
ARCHway believes in recovery from the disease of addiction.
Wilbur Smith shares his Journey of Recovery
Interviewed by Emily Jung
Wilbur Smith was born and raised in Ft. Myers, Florida, where he currently lives with his wife and their three beautiful boys. He is the owner and operator of Calusa Recovery, a successful treatment facility in Ft. Myers. Although busy, he tries to live life simply.
Today, Wilbur Smith enjoys every second of the life he is living, because he can live it. Whereas seven years ago, in the midst of active addiction, he wasn't truly living. He was just trying to get through each minute, hour, and day. He was struggling to get to his drug of choice, struggling to feel normal, and struggling to find a way out of active addiction.

Addiction Does Not Discriminate
Wilbur was the youngest of four boys. While his mother stayed home to take care of them, his father was a criminal defense attorney. His parents truly did give him every opportunity to succeed. They supported him academically, financially and athletically. He didn't grow up on a path that one would have thought would lead him to substance use later in life. He wasn't surrounded by it in his home. His parents were good parents who paid attention to their children, talked to their children and supported their children. But, as research shows, this disease does not discriminate; anyone and everyone can be affected.
Wilbur explained that, growing up, he didn't understand the value in everything he was provided. He shared that it led to a sense of entitlement. Along with this mindset, Wilbur faced a lot of anxiety. He said, "I never did well in school, and it put me in a state of fear basically anytime I walked into a classroom, and so I found alternative ways to get by."
In middle school, he battled this anxiety with sports, but eventually he would turn from sports and progress to substance use as a coping mechanism instead.
The thought patterns and behavioral patterns developed as children can stick with individuals until adulthood. It's these patterns that one has to learn to break or to cope with in positive ways through adolescence, so they are not carried into future opportunities.
As individuals grow and mature, they are presented with both good and bad opportunities. When the opportunity to use alcohol and drugs presented itself in Wilbur's life, his brain said 'yes'. Due to his sense of entitlement, his brain said 'I can do just about anything and nothing bad is going to happen.' And his anxiety told him that these substances actually made him feel better, so why would he stop. He found the best answer at that time.
Wilbur found alcohol for the first time at ten years old. A groomsman in his brother's wedding, Wilbur drank a couple glasses of champagne. He specifically remembers the feeling it gave him, and he not only thought that it was fun, the people around him did as well. This behavior was not reprimanded or criticized; he didn't have repercussions. Alcohol was cool, a thought that is often impressed on young people as they are growing up.
Getting himself and his friends drunk soon became Wilbur's number one priority. He also shared that he was in high school during the pill epidemic, so his interest in substances quickly excelled to prescription opiates.
At just 15 or 16 years old, Wilbur had already projected that he wasn't headed in the right direction, and as he said, he honestly didn't care. He liked the way it felt. He liked the exhilaration and adrenaline that came with it. Vividly, Wilbur said, "I remember taking a couple of Vicodin and thinking why would anybody drink when you can take these, you can keep them in your pocket, they don't smell, they're small, and they work much faster."
His use progressed quickly, as it does in most cases. He found a way to sell and make money off prescription drugs. But it was only a month before he was consuming more than he was selling. And, it was when he went away to college, after just 30-40 hours of not consuming opiates, that he started withdrawing. He would eventually drop out, move home and continue to deny his opiate use.
It Took Many Relapses
He tried to get sober. He went to treatment. Ultimately though, he shared that he just wasn't ready to get well.
Wilbur said, "The first few times I tried to get sober, I literally picked and chose everything that I did."
He also continued to engage in behaviors and hang around the same group of people he did while using. Wilbur said, "I am an IV drug user, but every time I relapsed, it was on alcohol… I would have one drink, and I would never get drunk those first relapses, but then two, three days later, I would find myself in complete mayhem in my brain…Then I would go pick up, and a week later I would be right back where I was before getting sober."
His family members were not blind to what was going on, but Wilbur was not easy to confront.
He shared, "Whenever I was confronted, I would, basically, rage. I would get so mad at the question because I was in such denial of it, that I would overcome their concerns with anger, and basically disengage from the conversation."
Just as Wilbur disengaged from conversation, so did his family. They began to realize that until Wilbur wanted to make a change, there was little they could do. They couldn't push him into treatment. They couldn't make him do anything he didn't want to do. That approach was not going to work. They were scared. They were scared to push him too hard. They were scared to push him away. They kept him at arm's reach, as Wilbur explained, until he was ready.
During the summer of 2012, Wilbur remembers being incredibly exhausted. He was tired of working to get high. He was tired physically and mentally. His body was malnourished. His relationships were no longer intact. He didn't like the person in the mirror. He was alone.
Wilbur said, "I remember having those thoughts of if I wasn't around, would it be that big of a deal…and then I thought to myself, not really. In fact, it would probably make things a little bit easier for people."
Wilbur knew his disease was affecting others in his life. The guilt of this was consuming. But, while these suicidal thoughts ran through his mind, Wilbur did think of his four-legged friend he'd known and loved since age 10. His black lab, Hank, would not be okay without him. He remembers asking himself, who would take care of him?
On August 8, 2012, with Hank on Wilbur's mind, his dad approached him (still at arm's reach) and gave him two choices: go to treatment or move out of the house.
Surrendering to His Treatment Team
Although not his first attempt at treatment, this time, it would be his last. At this point in his addiction, Wilbur found that surrendering was easier than continuing to fight this disease on his own. The exhaustion of using everyday, and the mental games going on in his head, were consuming him.
He realized that his own decisions had not worked in the past; this time he gave in and gave it up to his treatment team. Wilbur moved all the way to California for treatment. Away from family and friends, Wilbur had the opportunity to focus solely on himself. For the time being, he didn't have to worry about the harm he'd done to his family or their disappointment in him. He couldn't go back to his same friends, the ones he'd used and abused substances with since childhood. He had to focus on what was really going on inside himself.
It wasn't long after getting into treatment that Wilbur realized he was in the right place.
He specifically remembers a major turning point for him being a simple ask by one of the guys: "Does anyone want to go to the gym?" Wilbur was in California, he was living with a bunch of new faces, guys he didn't really know, and he had chosen to leave the negative coping mechanism of drugs and alcohol behind. Although a little scared, he went to the gym. He remembers getting in the car and feeling for the first time in awhile like he could actually do this. He was about to do something he enjoyed with another person in recovery. This was the start of the recovery support system that Wilbur really needed.
There were many structures put in place for Wilbur to keep him from relapsing. First, he took advantage of sober living. This environment kept him accountable and helped him to develop social supports with others who were also in recovery. He also included a physical aspect in his recovery: working out regularly and eating healthy. He kept himself honest. At that point, he had developed a behavior pattern of not only telling big lies in active use but telling small white lies. On top of all that, Wilbur participated in 12-Step programming. He not only went through the steps himself, he provided service by sponsoring others, and he participated in fellowship.
It was this combination that would help Wilbur get well and stay well.
Soon his life started to be restored. Not only was he recovering physically, mentally, and spiritually, his relationships were also being restored. Through treatment and sober living, Wilbur learned how to communicate again, which transferred to his family. He explained that he made a point to call his parents as much as possible and ask them how they were doing. This increased the positive dialogue between the three of them. He did the same with his brothers with whom he'd stopped communicating due to his addiction. He started to form new relationships, and he eventually met the woman who became his wife.
Wilbur also began working in the treatment field. He was first hired as a tech at a treatment center. In this position, he would drive people from one place to another, and helped out at the transitional living houses. At some point during this process, he began to realize that he was actually pretty good at working with others who were struggling with substance use disorders. Guys felt comfortable talking to him; they could relate. And he could help them get out of the darkness and see the simple, happy life that could be achieved in recovery. This helped Wilbur to see the value in peer support specialists, people with lived-experience, who could help support those on a path towards recovery. As he realized the value, he grew in his role.
His Next Chapter – Calusa Recovery
From time to time, Wilbur would go home to visit family in Ft. Myers, FL from California. During each trip, he witnessed yet another person with whom he had grown up that was either in jail, dead, or just not doing well because of his addiction. Wilbur wanted to help. And with the support of his wife and help from, Stuart, one of his fellow peers, Wilbur moved back to Ft. Myers to open a sober living home.
Wilbur and Stuart started with one house, just six beds, which filled up so quickly that, shortly after, they purchased another. They eventually realized that housing wasn't enough. They leased office space, which allowed them to offer three levels of outpatient treatment services, licensed through the Department of Children and Family Services. They are currently in the process of becoming nationally accredited as well.
Wilbur said, "Our objective is simply to provide a platform for guys to have the oversight they need clinically, live in a safe environment that they can come back to and stay accountable, and then also get their feet wet with reality."
Calusa Recovery offers the wrap-around services that clients need: access to medications, counseling and peer support, along with a safe recovery community and accountability. The individuals receiving treatment through Calusa Recovery have people to help them progress from their recovery community to re-integrating into society. Calusa counselors walk them through getting a job and/or enrolling in school – and talk through things like getting fired from a job, handling their first paycheck, or setting up bank accounts. Wilbur said, "We are extended care, a little bit more long-term. But again, it's to provide a platform for guys to grow and develop more sustainable independence."
The same resources that Wilbur needed in his personal recovery are what he works to provide for his clients at Calusa Recovery. Wilbur is truly using his personal battle with addiction and his recovery to help others out of their darkest moments in life.
Wilbur shared a little advice for those currently affected by the disease of addiction. He said,
"There is an argument of tough love or love, and I don't think there is a right or wrong to that. I've seen positive results from both. So, if you are a caregiver and you are trying to help somebody, whatever you decide, just stick with it.

And if you are actively using – know that you are okay, that you do have a chance as long as you acknowledge the fact that, on the day you are ready, you…just simply ask for help."
He explained further that this is where peers come in. Their stories have the power to provide hope that people can and do recover. Wilbur said, "I would say, coming from someone who got sober at 21 years old, walking into treatment at 140 pounds, in the matter of just seven years, you can go from that to owning a business and having a complete family. It is possible."
Wilbur would not be where he is today without his past. His addiction led him to a beautiful and fulfilled recovery, and it was through recovery, that Wilbur developed a change in morals, mindset, and ways of thinking.  His sense of entitlement was challenged, and his anxiety was combated with new, positive coping mechanisms. He is the husband and father he is today because of this, and he is able to teach his sons and provide them with the environment and coping mechanisms they need so instead of turning to substance use, they will turn to more positive ways.
Thank you Wilbur for your work and for sharing your recovery with ARCHway Institute.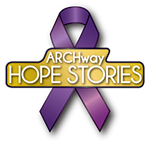 Read More Stories of Hope