Stories of Hope
ARCHway believes in recovery from the disease of addiction.
Chase Martinson shares his Journey of Recovery
Interviewed by Emily Jung
According to the Center for Disease Control and Prevention (CDC), "1 in 5 Americans will experience a mental illness in a given year… [and] 1 in 25 Americans lives with a serious mental illness, such as schizophrenia, bipolar disorder, or major depression," (CDC.gov).
People with mental illness are more likely to develop other medical conditions in addition to an increased risk of poverty and substance use. As people with mental illness search for a way to cope, they turn to drugs and alcohol, which only further affects brain chemistry. Mental illness can, therefore, be a result of drug use and/or the catalyst for one's drug use. Either way, research shows that people often receive a dual diagnosis meaning it is of primary importance that both illnesses be treated in order for the person to reach true recovery.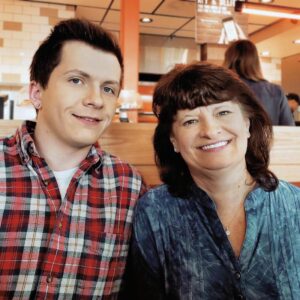 Chase Martinson is currently a manager at Recovery House, transitional living in the St. Louis area, and a certified peer specialist for the Assisted Recovery Centers of America, a medically assisted treatment facility. Chase believes that a large part of his addiction comes from underlying and untreated mental illness. Chase was diagnosed with borderline personality disorder in addition to anxiety and depression. Chase found himself abusing drugs and alcohol as a way to cope. In periods of sobriety, he would turn to self-harm and disordered eating. He explains it as 'almost needing some sort of crisis or chaos in his life', another trait of those with addictive and/or codependent behaviors.
Chase grew up with loving, adoptive parents. He was raised Southern Baptist and was one of eight children. His dad worked a lot, so he spent much of his time helping his mom take care of the six younger children which, he shares humbly, taught him numerous life skills. His older brother was diagnosed with bipolar disorder and had a hard time managing and regulating his emotions. This led to a lot of anxiety in the household because they didn't know when or if he was going to go into one of his manic states. Chase explains that he didn't want to rock the boat with his own issues, so he often remained quiet, even when he was repeatedly bullied – and especially when he began to realize he was gay. Instead, he strove to be the perfect child and student.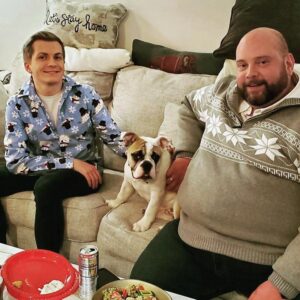 Chase went to college in Hannibal, Missouri where he was a scholarship athlete, Vice President of the Student Nursing Association, and manager of the women's volleyball team. Before college, he hadn't had a single drink nor did he experiment with any drugs. He talks about the night he started drinking with just a couple friends and the freeing sensation it gave him after being a nervous wreck for the first 17 years of his life. He said, "When I got the alcohol, it was really like 'this is it, this is college. I get it now'. This is what I should have been doing." He figured he had found the answer to all his problems.
The mentality that heavy drinking and experimental drug use is just another part of being a college student is one that is almost normalized. But it is also this mentality that needs to be feared, just as much as prescription drug use and IV heroin use. And it doesn't take long for drug and alcohol use to escalate.
Alcohol quickly took full grasp over Chase's life. It may have started out freeing him of anxiety, but it quickly only accelerated his mental health needs. The first time he had to go to the psychiatric ward for his drinking and mental health was just six months after his first drink, the summer between his freshman and sophomore year. It got to the point where he was drinking daily, even going as far as consuming hand sanitizer to get drunk, as he wasn't 21 yet. He was un-invited to parties, and he would get depressed and suicidal every time he was intoxicated. He was physically sick as well.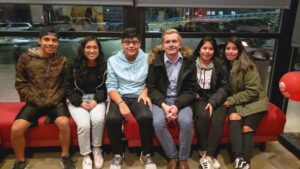 Chase would bounce between detox, inpatient, transitional living, and psychiatric facilities for a while. He had to drop out of school. His parents eventually asked him to move out. He felt abandoned, alone and depressed.
He vividly remembers the moment he decided enough was enough. He was alone in a hotel room, exhausted from living one crisis after another and about to end his life, when he had what he referred to as a "glimmer of hope". He said he realized he "wasn't born, put on this earth, been through all these things, to die at 24 years old in a bathtub, in a hotel, alone."
This was rock bottom for Chase, but fortunately, he had a place to turn and he took that glimmer of hope back to Recovery House. They welcomed him back with open arms and this time, Chase had a different outlook. He knew he wasn't meant to die, to be depressed, to do drugs. "No one is meant for that life," he explains.
This is when he began opening up to the others in the house.  Having had a history of verbal and physical abuse, as well as death threats due to his sexuality, he didn't walk in thinking he would be accepted as he was, but he now has a place where he can feel comfortable in his own skin. He has found men much like himself and men he can trust.
In addition to the support, he was treated for both his mental health needs and his substance abuse. This has brought him to where he is today: still clean and truly in recovery. If he had not been allowed back at Recovery House or been provided with the correct medication, he might not be where he is today – truly, he might not be with us today. He needed that second chance.
What some people don't realize about substance abuse and mental illness is that they do not simply go away after a period of time. It is something that you have to learn to manage for the rest of your life. There are days, even after years of recovery, where your disease is still triggered, but you learn ways to manage and cope, so you don't use or become crippled by your anxiety.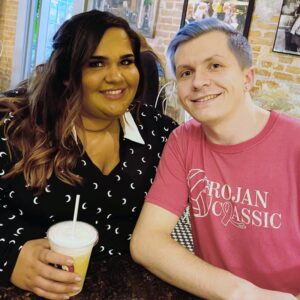 Chase explains that there are still times where he is depressed, but he knows he can reach out to his huge support system of people who want to see him succeed and reach his goals.
Chase is currently in school for social work at Indiana Wesleyan University. He's going to keep moving up the ladder in his recovery and in his career to help more and more people in their recovery. His goal is to work as a licensed clinical social worker in a substance use hospital setting or rehabilitation center and possibly aim for his PhD.
Chase plans to use his experiences to connect with and provide hope and treatment for others struggling.
Chase has so much he can share with this world. His experience is not limited to substance abuse. He has lived-experience with mental illness, eating disorders, self-harm and bullying.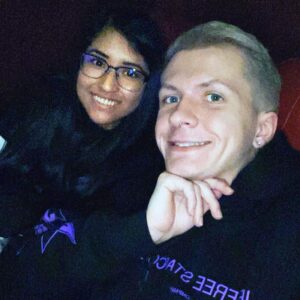 It is all of these things and more that make him a wealth of knowledge for others struggling with similar issues.
He said that, as an alcoholic in recovery, he knows how it feels to think, "this is never going to get better; my family hates me; everyone thinks I'm a piece of garbage."
He can show people it doesn't have to feel this way, that there is hope. Chase also knows how it feels to be harrassed and told to kill yourself because of your sexuality. He believes that people should be supported and helped through their life because as he puts it,
"People are people. Race, religion, sexuality and gender shouldn't matter. The bottom line is that you're supposed to have a happy life.  We are all put on this Earth for a reason. Not to do drugs. Not to be depressed and suicidal. We wish we didn't have to face difficult situations in order to help others through their difficult times but often, that's what happens, and that's what we will use our 'gifts' to do, to help others like ourselves. We are not alone. We are not abandoned."
And Chase Martinson is here on this Earth today to bring that hope to others! He is here today because of places like the ARCHway Institute, that help coordinate care and provide resources for those in recovery from substance abuse and mental illness. We know the two often coincide with one another and treatment of both is vital.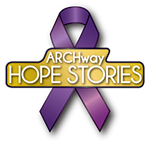 Read More Stories of Hope