Scott & Jenna Stuckey Family
Hope Fund Sponsor
ARCHway believes in recovery from the disease of addiction.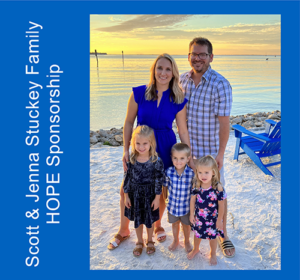 Scott and Jenna Stuckey are ARCHway Legacy of HOPE Sponsors. They started a HOPE Fund by pledging to give their personal memorial contributions in support of ARCHway's mission.
They understand that addiction is a disease, and they know that with the right support, people can recover.
Both Scott and Jenna have siblings who battled addiction, and both their siblings were able to, through the right resources and support of family and friends, recover. However, they realize that not everyone has access to this support and not everyone has the financial support needed for treatment and recovery resources.
Knowing from personal experience how addiction affects a family, they said, "Any way we can help those in need when we are here and when we are gone, is a great thing." Scott and Jenna will continue to give to the recovery community long after their time here on this earth. It will be part of the legacy they leave behind in their HOPE Fund.
Scott and Jenna are also driven by the passion that the Stuckey family has for helping others overcome addiction. They said, "The whole family is supporting this movement," and they are proud to be a part of it.