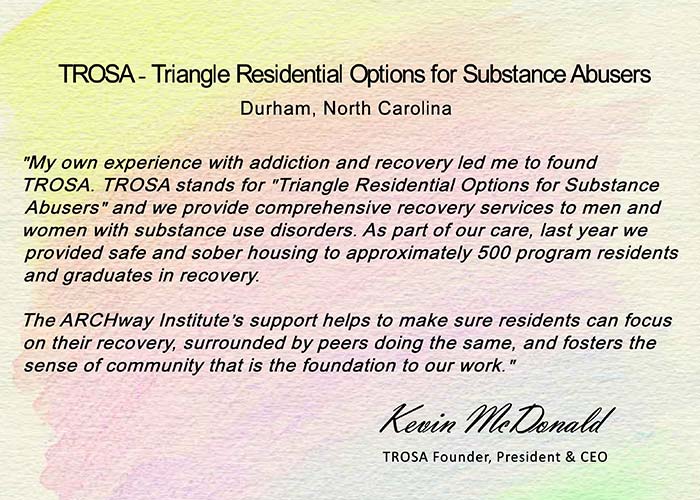 "My own experience with addictions and recovery led me to found TROSA. TROSA stands for "Triangle Residential Optons for Substance Abusers" and we provide comprehensie recovery services to men and women with substance use disorders. As part of your care, llast year we proided sfe and sober housing to approximately 500 program residents and graduates in recovery.
The ARCHway Institute's support helps to make sure residents can focus on their recovery, surrounded by peers doing the same, and fosters the sense of community that is the foundation to our work."
Kevin McDonald
TROSA Funder, President & CEO
2018 Hope Fund Campaign – Kevin McDonald – TROSA – Durham, NC
ARCHway Institute has been a strong supporter of the programs at TROSA in Durham, North Carolina for over two years now. Over the last 2 years ARCHway has given over $10,000 in Grants as Scholarships.
CEO & President Kevin McDonald talks about the TROSA story and how ARCHway's support can help their efforts. To learn more about TROSA and their unique programs, please go to their web site at

www.trosainc.org/