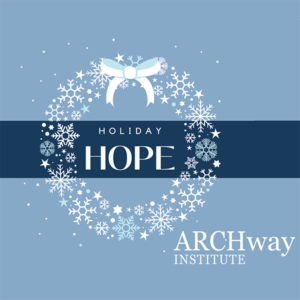 Give the Gift of Recovery this Holiday Season
Matching funds double your impact for those in and seeking recovery from substance use disorders!
The holidays are here, and if you're like me–an old soul at heart–you tend to go back in time. You imagine a simpler era when Christmas included real trees covered in tinsel and homemade ornaments. The term DIY didn't even exist yet! Dinner with family included ham and all the fixings, and for dessert you enjoyed Christmas cookies made from scratch. The windows had that fake spray snow on them and reflected the Christmas lights that were hanging from the roof. Imagine holly-covered tablecloths and vintage wrapping paper, and you have my reflection of what Christmas should look like.
We find ourselves nostalgic this time of the year, thinking about Christmas's past – the gifts, the snow, the parties, the traditions – but for some, especially for those who have battled through addiction, Christmas memories are not so pleasant. For these individuals and families, Christmas can be a nightmare, and it's often a nightmare that we look back on each year. 
The Dunavant family faced their own nightmare, and they sat down with ARCHway to tell their story and share with the ARCHway community that recovery is, in fact, possible! This year, during our Holiday HOPE Campaign, we wanted not only to share stories of hope and recovery, but also to demonstrate the impact that you are making through your contributions to our mission. 
Jake Dunavant started using substances at the age of 13. His use of prescription opioids started in high school and progressed to IV heroin and later fentanyl. By his late 20s, Jake was completely hooked, and he spent his last year or more in active addiction, homeless, just trying to survive. He no longer used to get high but to prevent withdrawal.
Jake and his three siblings grew up in a good home. They were all involved in the church in their community. They played sports, were very active and social, and did well in school. Jake's mom, Terre, shared that he was a sweetheart. He was the kind of kid who would give his mom a hug in front of all his friends. 
Jake agreed that he really had no adverse childhood experiences. He didn't struggle with mental health or abuse of any kind. He had two loving parents. If anything, this lack of hardship meant he didn't have the defenses, or the resiliency skills, to overcome struggles that would inevitably come up. He said, when he did experience something negative, like a breakup for example, it hit him harder, so it became easier for him to self-medicate. 
His dad, Terry, grew up having experimented with alcohol and marijuana, so he said he sort of accepted Jake's experimentation with it as a lot of parents do. His mom, on the other hand, was completely naïve to it, and if anything, she was shielded from early signs of Jake's substance use. 
Jake's story includes homelessness, jail, and the involvement of family services. Jake and his wife, Tabbetha, were both in desperate need of help and hope. At the same time, Jake's mom and dad were hitting their own kind of rock bottom. His dad talked about the many sleepless nights, and his mom explained having just a shred of hope left. It was to the point where they were talking about funeral arrangements because they were sure they were going to have to bury their son. "We were as low as low could go," Terre said.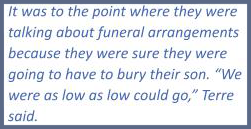 Jake's parents were given custody of their two grandchildren when they were just 18 months and 3 years old. They described learning how to be parents again, this time in the foster care system. Their hearts were broken, but their goal was always to reunite these two precious children with their mom and dad. 
 "You hope that things will be resolved. You hope for the best, and you have to have faith that it can be done," Terry said. Their faith is in God, and they had a whole church praying for their situation. Neither parent ever shied away from the conversation. They were open and honest about their son's substance use disorder. They reached out to those at their church for support, and they clung to their faith through all of it. Terry recalled a woman from their church group saying, "You know, Jacob and Tabbetha have something that a lot of people that are struggling like this don't have – they have a lot of people praying for them." It would be a combination of this faith with the right treatment and recovery resources that would break the chains of addiction and reunite their family.
Jake utilized Vivitrol and recovery housing to provide accountability in his early recovery. He enjoyed the camaraderie that recovery housing provided. He eventually took on the role of a manager at Recovery House of St. Louis and became a Certified Peer Specialist (CPS), guiding others through the recovery process. Peer support made all the difference in his recovery, and he wanted to be able to provide that kind of support to the next guy.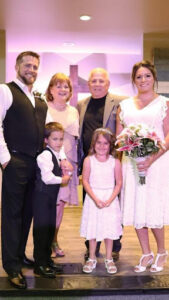 Jake explained that there are a lot of pieces to recovery outside of the resources mentioned above. "There is a lot of wreckage that an individual can produce in active addiction, and I certainly did produce a tremendous amount of wreckage," he said. Cleaning up this wreckage was a part of Jake's recovery. After finding a stable place to live, establishing employment, and taking care of his legal and credit needs, Jake finally found himself well enough to purchase a house and reunite his family!
Today, Jake's recovery includes three pillars – physical health, spiritual connection, and social network. He works on this recovery on a daily basis so he can be the best version of himself for his wife, kids, family, and friends. 
The Dunavant family truly believes that God intervened, but more so that God intervened through a whole group of people; from the prayers at church to the peers involved at ARCHway Institute and Recovery House of St. Louis, the village came together to help Jake and his parents establish recovery. "Peer support is the most powerful weapon out there for this addiction thing, outside of prayer and God above," Jake added.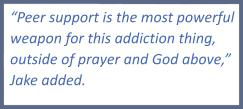 Today, Jake works with ARCHway Institute as the director of the Missouri affiliate of the National Peer Recovery Alliance. He is a true leader in the recovery movement, modeling long-term recovery nationally. Jake shared that the value of peer support in his and others' recovery is simply incomparable to any other resources. "It comes down to the group of peers in your network. The people who inspire you. The people who have carved out the path before you. The people you can lean on for guidance whether it be personally or even professionally, and that's where NPRA-MO comes in with professional development of peers in this field…It is important to build that workforce and build it in a way that produces and then fosters the highest level of peers that is out there." 
In building the workforce, Jake and all those involved in NPRA are paving the way to long-term recovery for all.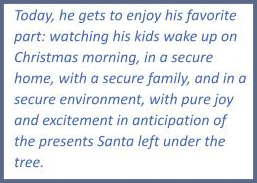 I asked Jake about Christmases past and present. He said that while he was in active addiction, the holidays were more of a burden. He explained that in order to be physically present at family events, he had to be under the influence, but being under the influence meant he wasn't able to be emotionally present. Today, he doesn't have to live that way. Today, Christmas is full of love and togetherness. He said it's focused on connection and his children, and that it is more emotionally reenergizing than it is taxing. Today, he gets to enjoy his favorite part: watching his kids wake up on Christmas morning, in a secure home, with a secure family, and in a secure environment, with pure joy and excitement in anticipation of the presents Santa left under the tree.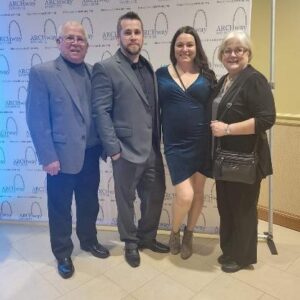 This is the gift of recovery, and it's this gift that you can share with families across the country through your donations to ARCHway Institute's Holiday HOPE Campaign. Your support helps to provide education – increasing awareness and diminishing the stigma related to substance use – ultimately allowing more people to reach out for support. It allows us to provide peer support and financial assistance to increase access to the wrap-around care necessary for recovery, and it enables us to continue to build a more unified, empowered peer workforce to support individuals with substance use disorders. Your support can change lives just like it did for the Dunavant family. 
Their family and many others found hope through ARCHway Institute, but that wouldn't have been possible without the many people who have supported the organization over the last 10 years. Thank you for your continued support and dedication to our mission. 
Your donation has the potential to be doubled this year! Our goal is to raise $15,000, which will be matched by Crickette Brown Glad, The Stuckey Family, and The Ben Lucas Foundation. That's a total of $30,000 to fund recovery!
You can donate by mail, on our website at https://thearchwayinstitute.org/holiday-campaign-reducing-relapse-during-holidays/, or by scanning the QR code below. To read more about The Dunavant Family or to donate to their ARCHway HOPE Fund Sponsorship to specifically support ARCHway's NPRA efforts, go to https://thearchwayinstitute.org/dunavant-family/. 

Happy Holidays & Best Wishes in the New Year!
~ The ARCHway Institute Family