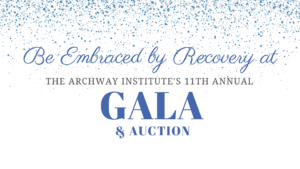 Embraced by Recovery at ARCHway's Annual Gala
More than 300 people gathered in St. Louis on April 14, 2023, for the ARCHway Institute's annual gala to celebrate the power of recovery. The event raised $115,000 to support ARCHway's recovery initiatives not just in Missouri but across the country. The funds will go toward ARCHway's education, peer support and financial assistance initiatives for people in and seeking treatment and recovery from substance use disorders, as well as the organization's workforce development for peer support specialists through the National Peer Recovery Alliance. In his keynote address, recovery advocate Jimmy McGill shared his story of overcoming incarceration and substance use and the impactful work he is doing today to support peer recovery in the State of Arkansas. St. Louis County Executive Dr. Sam Page was also in attendance and discussed the steps the community is taking to combat the opioid epidemic.
"Recovery is a beautiful thing. It's a freedom and a peace that radiates from a person's very core. Once you're felt it, you never want to lose it. It's that recovery that surrounds ARCHway Institute. It's that recovery that we want others to experience and that we share with those who reach out to ARCHway for support. It is why we do the work that we do," said ARCHway CEO Emily Stuckey.
Last year, ARCHway provided education at over 30 different events to increase awareness and reduce stigma around treatment and recovery, served nearly 100 people through their Advocates for HOPE Program and awarded $70,000 in grants to recovery-oriented systems of care to increase access to treatment and recovery services across the country. ARCHway also increased NPRA to include over 400 peers nationwide and 4 active state affiliates in Missouri, Ohio, West Virginia, and Kentucky.
This would not have been possible without the support of our donors and sponsors. We would like to say thank you to everyone who attended, donated, and sponsored this event. A special thank you to our Leaders Circle Sponsors: Laborers' Local 110, Ullico, and RecoVET Health Care. Thank you also to the board members, staff, and volunteers who helped to make this event a success.