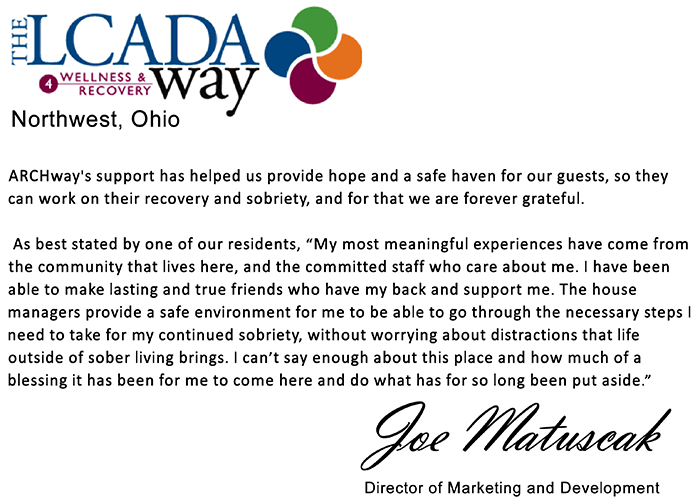 ARCHway's support has helped us provide hope and a safe haven for our guests, so they can work on their recovery and sobriety, and for that we are forever grateful. As best stated by one of our residents,
My most meaningful experiences have come from the community that lives here, and the committed staff who care about me. I have been able to make lasting and true friends who have my back and support me. The house managers provide a safe environment for me to be able to go through the necessary steps I need to take for my continued sobriety, without worrying about distractions that life outside of sober living brings. I can't say enough about this place and how much of a blessing it has been for me to come here and do what has for so long been put aside.
Joe Matuscak, Director of Marketing and Development
The LCADA Way, 4 Wellness & Recovery
Northwest Ohio
2018 Hope Fund Campaign – Joe Matuscak – The LCADA Way – Northwest Ohio
ARCHway Institute has been a strong supporter of the programs at The LCADA Way in Northwest, Ohio for over three years now. Over that time, ARCHway has given over $5,000 in Grants as Scholarships.
To learn more about The LCADA Way and their unique programs, please go to

www.thelcadaway.org