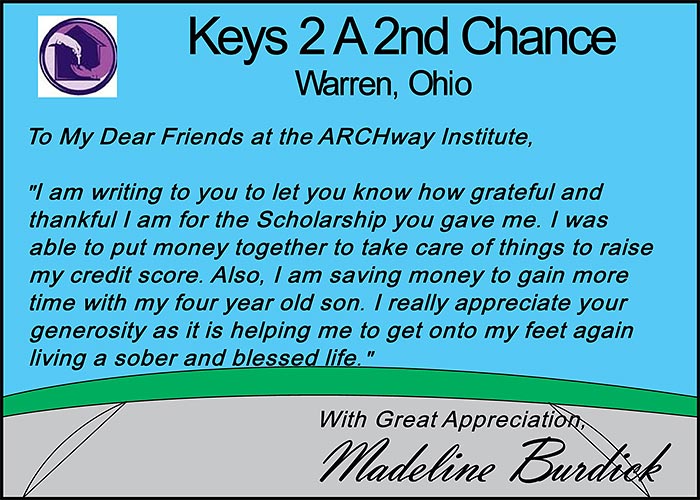 To My Dear Friends at the ARCHway Institute,
I am writing to you to let you know how grateful and thankful I am for the Scholarship you gave me. I was able to put money together to take care of things to raise my credit score. Also, I am saving money to gain more time with my four year old son. I really appreciate your generosity as it is helping me to get onto my feet again living a sober and blessed life.
With Great Appreciation,
Madeline, In Recovery
at Keys 2 A 2nd Chance, Warren, Ohio
330-506-6035
2018 Hope Fund Campaign:
Madeline – ARCHway Scholarship Through Keys 2 A 2nd Chance – Warren, Ohio
Madeline shares a bit about her journey of recovery and how being given a second chance through one of ARCHway's Scholarships helped change her life.
ARCHway Institute has been a strong supporter of the Keys 2 A 2nd Chance structured sober living facility in Warren, Ohio.
To learn more about the Keys 2 A 2nd Chance and their programs, please go to their web site at

keys2a2ndchance.com

.