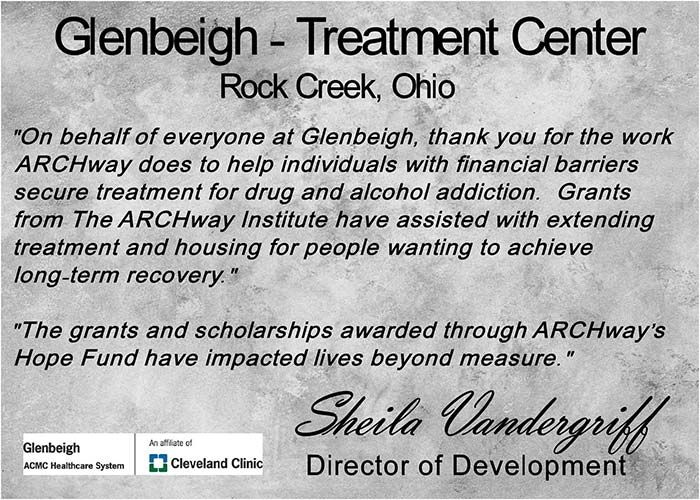 On behalf of everyone at Glenbeigh, thank you for the work ARCHway does to help individuals with financial barriers secure treatment for drug and alcohol addiction.  Grants from The ARCHway Institute have assisted with extending treatment and housing for people wanting to achieve long-term recovery.
The grants and scholarships awarded through ARCHways Hope Fund have impacted lives beyond measure.
Sheila Vandergriff
Glenbeigh Treatment Center
Director of Development
800-234-1001
2018 Hope Fund Campaign:
Sheila Vandergriff – Director of Development at Glenbeigh – Rock Creek, Ohio
Sheila Vandergriff, Director of Development, shares her thoughts on how the ARCHway Scholarships can be so effective in helping turn an individuals life around.ARCHway Institute has been a strong supporter of both the Glenbeigh's Treatment Center in Rock Creek, Ohio and the Glenbeigh structured Sober Living programs in Niles, Ohio. ARCHway has teamed up with Glenbeigh for over five years now. In that time ARCHway has given over $50,000 in Grants as Scholarships. In addition, Glenbeigh is one of the ARCHway Hope Fund Sponsors.
To learn more about Glenbeigh and their programs , please go to their web site at glenbeigh.com/rock-creek