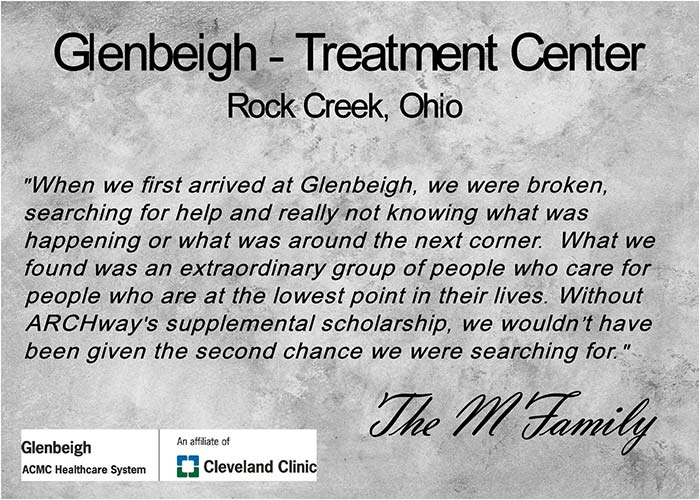 When we first arrived at Glenbeigh, we were broken, searching for help and really not knowing what was happening or what was around the next corner. What we found was an extraordinary group of people who care for people who are at the lowest point in their lives. Without your supplemental scholarship, we wouldn't have been given the second chance we were searching for.
The M Family
Affected by the Disease of Addiction
2018 Hope Fund Campaign:
The M Family – ARCHway Scholarship Through Glenbeigh – Rock Creek, Ohio
The M Family shares a bit about their family journey of recovery for a loved one and how one of ARCHway's Scholarships helped change their life.
ARCHway Institute has been a strong supporter of both Glenbeigh's Treatment Center in Rock Creek, Ohio and Glenbeigh's structured Sober Living programs in Niles, Ohio. ARCHway has teamed up with Glenbeigh for over five years now. In that time ARCHway has given over $50,000 in Grants as Scholarships. In addition, Glenbeigh is one of the ARCHway's Hope Fund Sponsors.
To learn more about Glenbeigh and their programs, please go to their web site at

glenbeigh.com/rock-creek