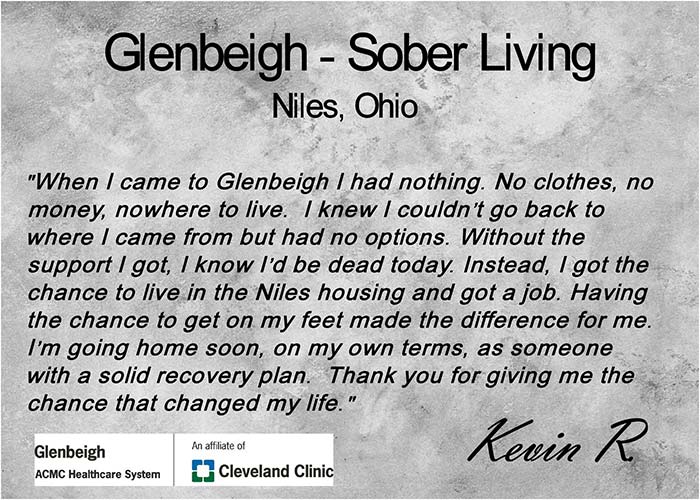 When I came to Glenbeigh I had nothing. No clothes, no money, nowhere to live. I knew I couldn't go back to where I came from but had no options. Without the support I got, I know I'd be dead today. Instead, I got the chance to live in the Niles housing and got a job. Having the chance to get on my feet made the difference for me. I'm going home soon, on my own terms, as someone with a solid recovery plan.  Thank you for giving me the chance that changed my life.  Kevin R.
Thank you ARCHway for all your support.
Kevin R, in recovery
Glenbeigh Treatment Center
2018 Hope Fund Campaign – Kevin R:
Scholarship through Glenbeigh – Niles, Ohio
Kevin R shares a bit about her journey of recovery and how being given a second chance through one of ARCHway's Scholarships helped change her life.
ARCHway Institute has been a strong supporter of both the Glenbeigh's Treatment Center in Rock Creek, Ohio and the Glenbeigh structured Sober Living programs in Niles, Ohio. ARCHway has teamed up with Glenbeigh for over five years now. In that time ARCHway has given over $50,000 in Grants as Scholarships. In addition, Glenbeigh is one of the ARCHway Hope Fund Sponsors.
To learn more about Glenbeigh and their programs , please go to their web site at glenbeigh.com/rock-creek