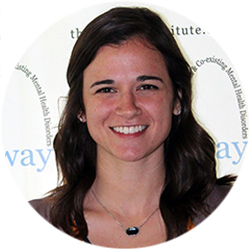 Emily is the President & Chief Executive Officer for ARCHway Institute. She is also a Certified Peer Specialist and on the Executive Team for MO-PROS. As someone who has been affected by the disease of addiction, Emily is an advocate for others struggling and their caregivers.
As a previous public school teacher and through her own experience, she sees the need for open and honest communication about addiction and mental health. She believes these conversations need to happen in schools, in homes, and in the public to bring awareness and understanding, to prevent overdoses and future use, and to bring knowledge of the resources and treatment opportunities that are available.
In her role within the ARCHway Education and Awareness Committee, Emily is using her expertise as a writer to publish ARCHway's "Book of Hope" which will focus on how the ARCHway community was brought together to support those affected by substance use and co-occurring mental health disorders.
​Emily has a Bachelors in English Education from Southeast Missouri State and a Masters in Curriculum and Instruction from Missouri Baptist University. She taught for six years in the Parkway School District in St. Louis.