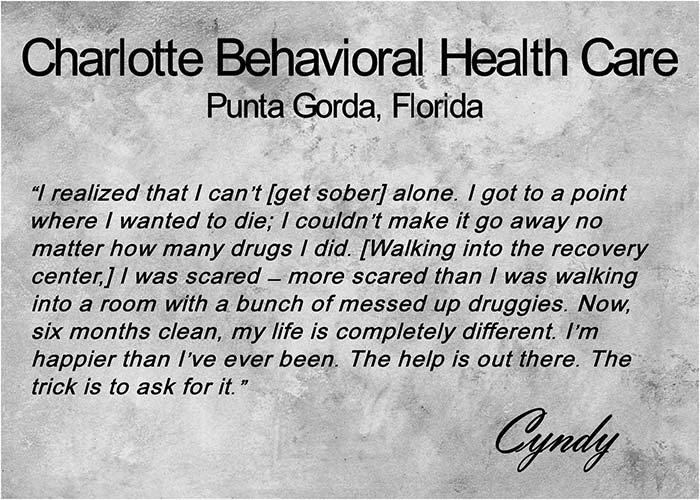 I realized that I can't [get sober] alone. I got to a point where I wanted to die; I couldn't make it go away no matter how many drugs I did. [Walking into the recovery center,] I was scared – more scared than I was walking into a room with a bunch of messed up druggies. Now, six months clean, my life is completely different. I'm happier than I've ever been. The help is out there. The trick is to ask for it.
Thank you ARCHway for all your support.
Cyndy, In Recovery at Charlotte Behavioral Health Care, Charlotte County Florida
ARCHway strong supporter
2018 Hope Fund Campaign:
Cyndy – In Recovery – Charlotte County, FL
ARCHway Institute has been a strong supporter of the programs at Charlotte Behavioral Health Care (CBHC) in Charlotte County, Florida. Over the last 4 years ARCHway has given around $25,000 in Grants as Scholarships to CBHC so we can hear more stories like Cyndy's. These scholarships help an estimated 50 people start their journey of recovery.
While 1 in 10 people in the US over the age of 12 have an Alcohol or Drug Addiction Disease, only about 20% ever ask for professional help.
Not only does your financial support help change people's lives but your visual support breaks down the Stigma attached to this disease that keeps people from seeking help.
To learn more about CBHC Recovery and their programs, please go to their web site at

cbhcfl.org