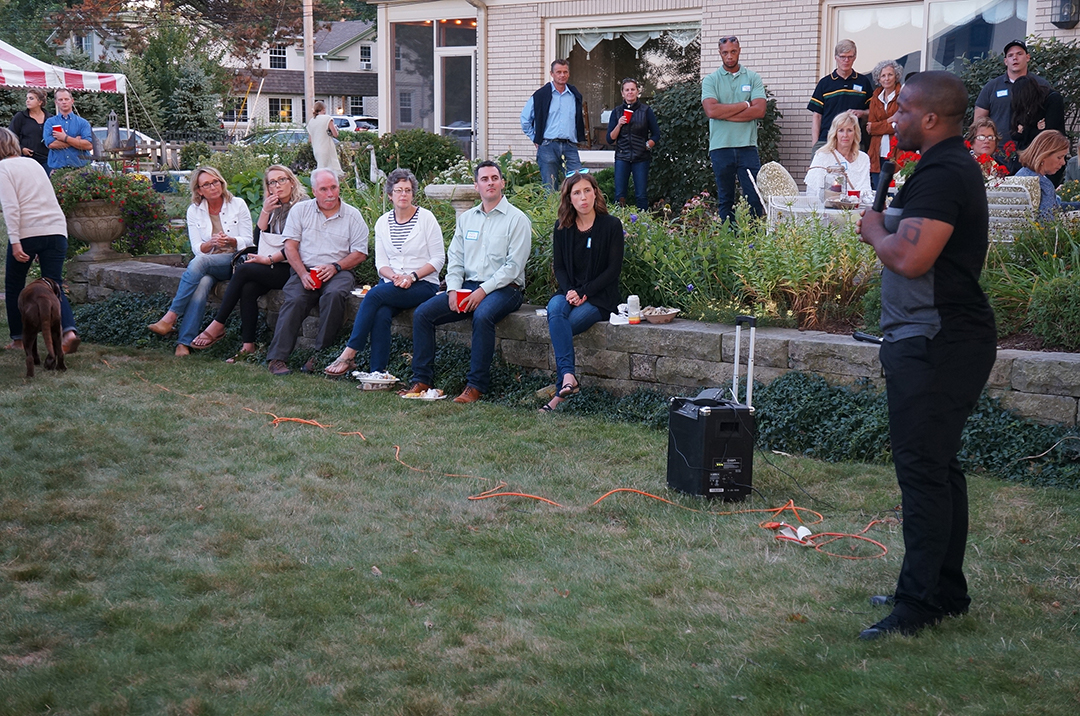 What a fantastic evening we had on Wednesday September 14th, 2016 in Avon Lake, Ohio. ARCHway and The LCADA Way wanted to share the results to all of you who supported the Avon Lake Clam Bake put on by the Martin Family. Lariane and Earl Martin along with their family were so kind to allow us all to be at their home for this event as well as take a leadership role in organizing this Addiction Disease Awareness and Fundraising Event. The Martins', ARCHway and The LCADA Way all want to say thank you to all our sponsors, gift donors, volunteers, partners and participants.
So we would like to start off with something that we do not talk about much by putting on events like this. Our goal is to help change the stigma associated with the disease of addiction. In some small way ARCHway hopes by just having events where we talk about the disease of addiction that people will feel more comfortable about asking for help. We can share that behind the scenes we have had 5 families reach out to us asking for information and/or help because of the communications and information that comes out by running this event. At the event we talked about how one in three families is dealing with this disease in their household. We asked everyone to consider LIKING the ARCHway Facebook Page and signing up for the ARCHway Newsletter so they could start sharing information with their friends and send a message to their friends that they are open to discuss and help others dealing with the disease of addiction. The response has been outstanding with over 35 new likes on our Facebook Page and over 40 individuals signing up for the ARCHway Newsletter. Please visit facebook.com/thearchwayinstitute and thearchwayinstitute.org if you have not signed up.
One of our top goals is to bring awareness and educate the community about the disease of addiction. In addition to  the material covered at the event, we were able to educate more individuals through news coverage and radio interviews. Please take a second and listen to Earl & Frank Martin in their interview on WEOL https://youtu.be/lApsxK7N2Fo and/or read the article written about the event in the Chronical http://chronicle.northcoastnow.com.
With your efforts you raised $11,121.26 to be used as scholarships by both The LCADA Way and ARCHway. This is a fantastic amount and if you know anyone who is wanting to get into recovery but financial barriers are keeping them from getting the help they want, have them go to thearchwayinstitute.org/get-help/ and ARCHway may be able to help. This can either be in Ohio or any other state in the USA. You can also reach out directly to The LACADA Way for information and help and they will contact ARCHway if a person is in need or wants to apply for a scholarship. You can contact them through their website at http://www.thelcadaway.org/ .
We had 33 Sponsors that came from all over the country to invest in helping those in the northeast Ohio area. We got checks from California, Colorado, Florida, Missouri, Pennsylvania as well as Ohio. These events would not be successful without these sponsors, as these 33 sponsors donated $6,160 to our event.
We had many local businesses donate and sell/rent at cost  tables, chairs, tents, water, beer, and wine.
We had over 200 people participate which was the largest crowd to ever participate in an ARCHway event. This is a fabulous result and not typical of a first-time event.
Please go to the ARCHway Facebook Page facebook.com/thearchwayinstitute/ as we have posted about 30 pictures from the event.
We would like to thank all our volunteers for helping run this event but want to make a special call out to the men that came from the Recovery House in St Louis to help out and support the Martins.
We would like to thank all those brave souls that volunteered to be interviewed by our partner Rock & Recovery Radio out of Akron, Ohio. Garrett Hart interviewed 5 individuals and those interviews will be aired during 2016 and 2017. Please go to www.rockandrecovery.com and make Rock & Recovery your go to on-line and from the airwaves radio station.
We would like to thank Neall French and Maurice Clarett for donating their time. They were so kind to be involved in so many photo opportunities as well as be willing to share their own journey of recovery. For me, one of the highlights already from this event was listening to Maurice Clarett tell his story and message of HOPE. I think it is exciting that both of them are moving forward to make their professional lives revolve around helping others. I think in the years to come we will learn more about their efforts in Youngstown with the RedZone. Just take a second and see what they are up to. http://redzone-yt.com/