Congratulations to our 2023 Grant Recipients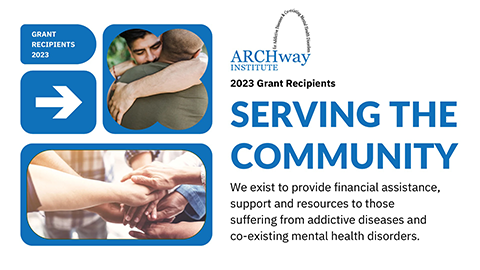 Hilljack House (St. Louis, MO)
Congratulations to Hilljack House, whose mission is to provide a safe and supportive environment in the St. Louis area where people recovering from drug and alcohol addiction can learn to live responsibly through sponsorship and the principles of 12-step recovery. Their Grant funds were utilized to support multiple individuals within Hilljack's structured recovery housing environment. 
Sana Lake Recovery Housing (Dittmer, MO)
Congratulations to Sana Lake Recovery Housing. Sana Lake focuses on helping people heal from substance use and mental health disorders for life, by giving them and teaching them to use new tools. By doing so, the individuals served become happy and content in their homes, become productive members of their community, and begin to live healthy and purpose-driven lives. 
Sana Lake's grant funding was utilized to support multiple individuals within their structured recovery housing environment. 
Communities of Recovery – CORE (Branson, MO)
Best wishes to Communities of Recovery, whose grant funds were utilized for an individual's first month at CORE. CORE is a non-profit Christian ministry designed as an intentional and dedicated outreach to the alcoholic and addicted community of the Branson, Missouri area. The CORE supportive recovery services provide life instruction and safe housing to individuals in the program.
Hope Creates (St. Louis, MO)
Congratulations to Hope Creates, whose grant funds were used to support their "Make Your M.A.R.C." program in collaboration with St. Louis Classical Guitar and the Child and Family Empowerment Center. 
This is a nine-week Arts and Healing program for youth who are the children of parents in recovery from substance use disorder. The program is designed to provide students who are at great risk for SUD with a multidisciplinary arts healing experience. Participants not only learn to paint/draw, but they also learn guitar/drums in a group setting, decorate a guitar of their own, and write their artistic statement. Feelings of joy, accomplishment, and pride are all associated with successful art and music making, and these positive emotions have a deep impact in preventing SUD and supporting healing. 
St. Kolbe Puckett Center for Healing (St. Joseph, MO)
ARCHway is honored to provide grant funds to the St. Kolbe Puckett Center for Healing this year. Funds were utilized to provide medication-assisted treatment services to individuals struggling with opioid use disorder (OUD) and other substances. St. Kolbe provides treatment to individuals regardless of their insurance status or ability to pay out of pocket. St. Kolbe works to remove this financial barrier to make recovery possible for all. 
Healing House (Kansas City, MO)
Congratulations to the Healing House! Their grant funds were utilized for a mother in recovery from substance use disorder who was recently reunited with her child. The funds will help with the financial cost of a supportive recovery housing environment, so she can continue her recovery journey and reunification process with her child and family.
Code 1 Wellness (Archie, MO)
ARCHway is proud to provide assistance to Code 1 Wellness this year! Grant funds  were utilized for therapy and addiction recovery services at Code 1 Wellness, specifically allowing individuals to attend community groups, providing them with the tools and resources to sustain their recovery long-term. 
Invictus Woods Sober Living (Peoria, IL)
Invictus Woods Sober living is another well deserving grant recipient this year. They like to offer scholarships for indigent residents on the first day of release from inpatient treatment. This scholarship allows them to come directly to Invictus upon discharge. Why is this so important? This is an extremely vulnerable time in early recovery, and being immediately connected to Invictus after discharge allows them safety and avoids tempting situations or environments that lack strict sober living behavior. This scholarship will provide housing for 1 resident for an entire month, so they are able to re-establish themselves, secure employment, connect with support services and become a responsible member of our community. They can prepare for a successful transition to independent sober living. 
Cathy's House (Medina, OH)
Congratulations to Cathy's House! Grant funds will be used to support their newest men's recovery house. 
Through a collaboration with the Medina County Park District and Hope Recovery Community, they were able to announce their newest men's housing location, located at the Medina County Parks District – Brown Trump Homestead. "The Farm," as it is being referred to by their residents and staff, is a 17 acre farm located in the heart of Medina county. This property will be a working farm, with several different workforce development tracts that will continue to aid their residents in life skills through our amazing partnerships. 
Located on the farm property is their newest house, where we will be able to house up to 12 men! This is a 43% increase in our bed capacity with a total of now 40 beds in our program! This is the largest recovery farm in the state of Ohio which will aid in recovery support, recovery housing and the local food insecurity. 
Glenbeigh – Niles House (Rock Creek, OH)
Congratulations to Glenbeigh! Their grant funds will be used for individuals receiving treatment and recovery services. Grant funds expand access to sober living which is a healthy solution that enhances long-term recovery.
The Road to Hope (Vermilion, OH)
The Road to Hope (RTH) is another grant recipient this year! RTH is a 501(c)(3) non-profit organization that operates quality, certified recovery housing for men, women, and women with children in Cuyahoga, Lorain and Erie Counties in Ohio. They currently do not receive financial support from the ADAMHS Board of Cuyahoga County and are unable to access funding through this valuable resource until January 1, 2024. Grant funds from ARCHway are being used to help them grow and sustain this critical recovery housing opportunity for those in need in Cuyahoga County.
To learn more about this extremely important resource, visit https://road-to-hope.org/.
Metanoia Recovery Homes (Port Saint Lucie, FL)
ARCHway is honored to provide grant funding to Metanoia Recovery Homes this year! Their grant funding was used for an individual in need of financial assistance for recovery housing services. 
Recovery Life Homes (Kissimmee, FL)
Congratulations to Recovery Life Homes, whose grant funds were utilized for 2 individuals in need of financial assistance for recovery housing services. 
Fund Recovery (Nashville, TN)
Congratulations to Fund Recovery who received grant funding this year! Funding from ARCHway will support individuals who are in need of financial assistance and recovery housing services. 
The Phoenix House Project (Cape Coral, FL)
Congratulations to The Phoenix House, whose 2023 Grant funds were utilized to support individuals within recovery housing at The Phoenix House Project. 
Charlotte Behavioral Health Care (Punta Gorda, FL)
Grant funds utilized to support Charlotte Behavioral Health Care and the Charlotte County Sheriff's Office in their Addiction Recovery Initiative. Through this initiative, individuals struggling with substance use disorder who present themselves to the sheriff's office will be immediately transported to Charlotte Behavioral Health Care where they will receive quality treatment services. These services will be free of charge thanks to the support of ARCHway Institute's grant funds. 
Nextep (Fort Myers, FL)
Best wishes to Nextep who is a 2023 grant recipient! Grant funds were utilized to support two individuals in financial need who reside at Nextep. 
The Surrender House (Cape Coral, FL)
Congratulations to The Surrender House, whose grant funds were used to support individuals in recovery. These funds will specifically support transportation needs, so clients have the transportation to get to and from work, treatment, meetings, and more. Transportation should not be a barrier to recovery, and Surrender House is doing everything in their power to eliminate that boundary!
Healing Transitions (Raleigh, NC)
A big congratulations to the men's and women's long-term recovery program at Healing Transitions! Their long-term recovery program supports homeless, uninsured, and underserved adults with alcohol or other drug addiction. They provide services at no cost to participants and offer a peer-driven model, inspired by The Healing Place in Louisville, KY. 
This long-term program comprises three distinct stages: (1) a motivation and engagement stage for those expressing interest in joining the program, (2) an educational stage, and (3) a transitional stage. During the motivation and engagement stage, as well as the education stage, participants are guided through the Recovery Dynamics curriculum. This curriculum encompasses various aspects of recovery, equipping individuals with the necessary tools and knowledge to overcome addiction. Additionally, peer accountability, shared responsibilities in managing the facility, and job readiness training in collaboration with Wake Tech Community College are integral components of the education stage. The transitional stage of the program provides participants with opportunities to serve as peer mentors, while also assisting them in securing employment and transitioning into recovery housing. Furthermore, an essential aspect of the program involves linking individuals to the larger recovery community, fostering a supportive network, and facilitating ongoing recovery efforts. To represent a participant graduating from our long-term program, we do monthly Silver Chip Ceremonies to serve as an occasion to acknowledge and honor participants' achievements. A Silver Chip is presented to the participants during these ceremonies to signify their dedication and progress in their recovery journey.
Carla Vista Sober Living (Mesa, AZ)
Congratulations to Carla Vista Sober Living in Mes, AZ! Their grant funds were utilized for a resident of Carla Vista Sober Living, so they could stay in the recovery home and continue on their recovery journey. 
Peer Support Association of North Dakota (Minot, ND)
The Peer Support Association of North Dakota (PSAND) was awarded a grant this year for the growth and development of this peer association in the state of North Dakota. PSAND was formed for the purpose of providing standards, education, and professional development for peer support specialists in North Dakota. The organization is founded by peers, led by peers, and for peers. 
Couve Collective: A Recovery Cafe (Vancouver, WA) 
Congratulations to Couve Collective! This non-profit organization endeavors to fill a need for social interaction, community support, empathy and loving accountability for people who are living in recovery. They support all paths to recovery and strive to be a resource for individuals and families who are seeking to find healthy solutions for living a fulfilled life. Their grant will be utilized for their "Change Your Story Change Your Life" Annual Campout! Couve Collective provides members, free of charge, with a long weekend at a nearby campground. The purpose of the weekend first and foremost is fellowship and community building. Secondarily, they work on helping those in attendance develop a redemption narrative for struggles they have experienced, with the hope of empowering them to have positive change going forward. They have family style communal meals, creative activities and night-time campfire smores. The weekend culminates in a campfire ceremony where individuals have the opportunity to share the story they have worked on throughout the weekend.