Join us for the 2nd Annual ARCHway Charity Tennis Mixer,
Charlotte County, Florida
March 20th, 2020 Twin Isles Country Club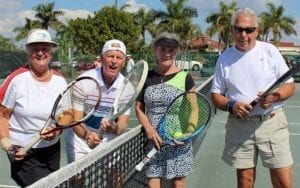 This will really be a fun and exciting event. A round robin event where you will be paired with different partners. We will keep track of your individual scores. There will be prizes and awards at a cocktail party after the event.
ARCHway is "making it a weekend" with a Charity Golf Outing the following day. Sign up for both events at one time and receive a substantial discount. Please join us for lots of fun while helping a great cause!  CLICK HERE TO DOWNLOAD THE FLYER
Entry Fee: $40 includes a minimum of two matches on March 8th and entry to Friday's Cocktail Party.
March 20th Schedule: 1:30pm Registration ~ 2:00pm Matches Begin ~ 4:00pm Cocktail Party (appetizers & cash bar)
Tickets
Weekend Pass (Tennis + Cocktail Party and Golf + Lunch) – $110
Tennis Mixer (Tennis + Cocktail Party) – $40
Tennis Mixer (Cocktail Party only) – $10
Friday Cocktail Party (3/20) & Saturday Lunch (3/21) – $35
We Believe in Recovery from the Disease of Addiction.
Would you be interested in Sponsoring?
Corporate $1,000 | Gold $250 | Silver $100 | Bronze $50
Sponsors will be recognized at the Tennis Mixer on March 20th and the Golf Tournament on March 21st
You may register, sponsor and donate online and pay by mail, see "Payment" options in the form. Please make checks payable to "ARCHway Institute" and send to:
ARCHway Institute
c/o Dan Stuckey
3777 Candia Drive
Punta Gorda, FL 33950
You may also be interested in our
6th Annual ARCHway Florida Charity Golf, Lunch and Silent Auction event
Friday, March 21st at Twin Isles Country Club