Stories of Hope
ARCHway believes in recovery from the disease of addiction.
Marcy Robinson is a person in recovery from a substance use disorder.
Interviewed by Emily Jung
She started using for the first time with her husband and her mother. Both her parents struggled with substance use disorders when she was younger. Although they would all eventually stop, Marcy couldn't. Marcy shared that she was on the streets for a good 20 years before finding recovery. She was in and out of jail, and she tragically lost her mother, step-brother, and daughter all within a short period of time.
Marcy has overcome a lot to get to this point in her life, and it started by admitting she had a disorder and that she needed help.
Today, she is in recovery housing at LIV Sober Living where she shares her positive energy with the other women in the houses. She is the chair-person of the 12-step meeting in the house. She stays rooted and grounded in God's word. She goes to church regularly. She wants to get continuing education to allow her to help others on their journey to recovery. She has been reunited with her family including her father and her daughters.
She feels truly blessed. She said, "Sometimes I have to pinch my skin to make sure it's real."
Thank you, Marcy, for sharing your story with ARCHway. You give HOPE that recovery is possible.
Read Further…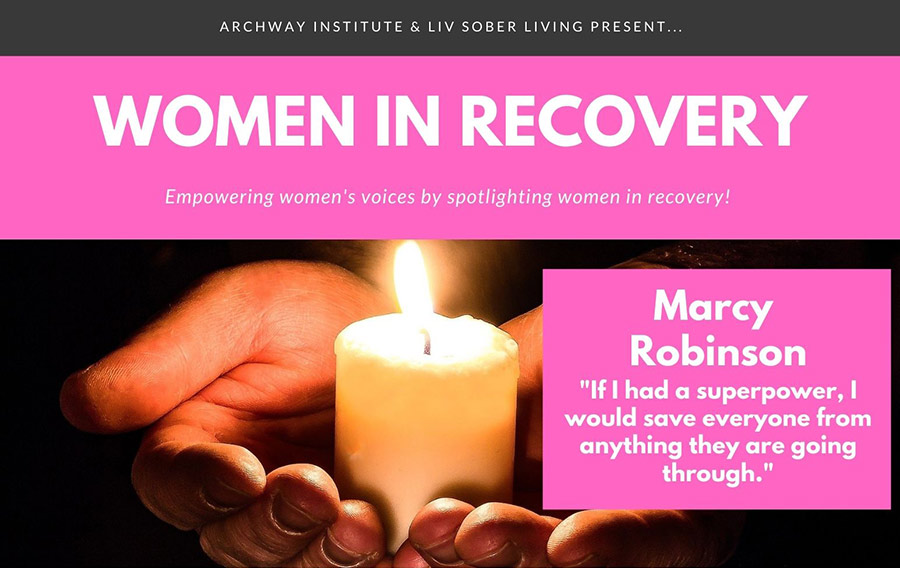 Questions for Marcy
What keeps you on this path of long-term recovery?
In addition to treatment and her sponsor, sober living and her relationship with God keep her on this pathway. God is the head of my house, and I have never been to a sober living house like this one. The ladies are awesome here, and we help each other. She is also leading the NA group at LIV Sober Living, so in giving back and helping other, she is working on her recovery.

What are you most proud of in your recovery today?
I am proud of myself for asking for help. I finally opened up. I had never done that before.

What would you say to those who are still struggling?
I would let them know what I've been through. I would say, God loves you. I would say, you have to ask for help and if you do, God will bring you out of this – the way he helped me out. I would say, you have to want it for yourself. I tried for everyone else for a long time, and it didn't work until I wanted it for myself.

Other advice…
Find something that fits for you. Talk to God. Read your Bible. Journal. Marcy add someone or something new to her gratitude list every day.