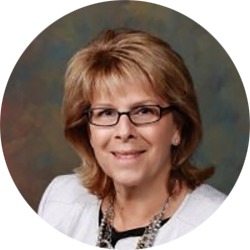 Laura Tiberi, MA, CAE is the Executive Director of the Ohio Chapter, American College of Emergency Physicians, a state medical specialty society representing emergency medicine with more than 1,400 members.
Prior to joining Ohio Chapter, Laura served thirteen years in Ohio state government with roles as the Governor's Highway Safety Representative, and ultimately as State EMS Director. She has trained and facilitated leadership for medical society executives, staff teams, and physician leaders through The Leadership Challenge®.
Laura earned the Certified Association Executive (CAE) credential in 2008 from the American Society of Association Executives; is LPI® Coach Certified and a Leadership Challenge Facilitator; is a graduate of the Gestalt Institute of Central Ohio Post Graduate Training Program with a focus on business and organizational consulting; is a Professional Coach in training at Coach U, Inc; and holds a B.A. summa cum laude from Ohio Wesleyan University, an M.A. from The Ohio State University, and membership in Phi Beta Kappa.
Laura's interest in mental health and substance abuse comes from her acute awareness of the challenges of addiction through working with emergency physicians who battle with the results of addiction in the emergency department every day; and through the experiences of very close friends with mental illness as a contributing complication to drug addiction. She has served on various committees of the Governors Opiate Action Team in Ohio whose focus is the proliferation of and continued accidental deaths via prescription drugs, and the education of families and physicians about the role and unintended consequences of prescription drugs.