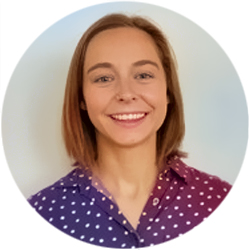 Jane Goldkamp is a St. Louis native and graduated from Saint Louis University with a Bachelor's degree in Marketing. She went on to serve with Jesuit Volunteers Corps Northwest at a recovery support agency in Seattle, WA. After moving back to St. Louis, Jane worked with people experiencing homelessness in St. Louis. Jane is passionate about meeting people wherever they are in their recovery journey, reducing the stigma, and bringing awareness to how recovery looks different for everyone.
Her family has been personally affected by SUD (Substance Use Disorder). Right after college, Jane participated in a year-long volunteer program where she volunteered at a recovery support organization in Seattle called Recovery Cafe. This hands-on experience really shifted her perspective, and she wanted to pursue a career where she can support folks in recovery, and ARCHway has given her this opportunity!
She's most excited about how ARCHway is working to build up the recovery community, and for the opportunity to help this organization grow.
She loves camping, hiking, and really likes to get outdoors in her spare time.