December Virtual Education & Awareness Event: Relapse Prevention during the Holiday
December 7th at 12pm ET / 11am CT
The Public is invited to
our December Virtual Education & Awareness Event
The holidays can be a stressful time for many. Those in, and seeking, recovery from substance use disorders are not immune to this stress. And in fact, those early in the recovery process especially, have added stress and worry that something will trigger them to relapse. COVID-19 has also had an increasingly negative impact in terms of isolation, mental health disorders, unemployment and more. It is more important now, than ever in the past, for us to focus on relapse prevention.
Join us on December 7th at 12 pm ET / 11am CT to hear from professionals on avoiding relapse during the holidays.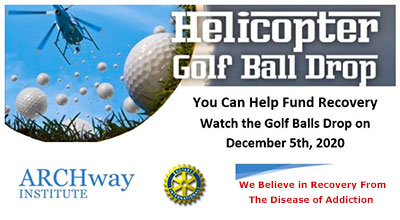 REGISTER TODAY & receive 1 FREE Golf Ball to ARCHway's Helicopter Golf Ball Drop on December 5, 2020! Claim your chance for 12 prizes ranging in value from $250-$3000 with a total prize value of $10,000+. Read about the Golf Ball Drop
Please R.S.V.P. Here
Watch for an email from ARCHway Institute. If you don't receive a confirmation email from us, 1. please check your "Junk" or "Spam" folders; or 2. Contact us by email here.
A Special Note
ARCHway is 90% funded by private donations. Events like this are FREE to the public, but they do require a budget for the cost of staff, technology, and at times, the cost of speakers. If you like what you saw today and would like to help ARCHway continue to offer these events, please consider making a donation. DONATE HERE