11/19 – Why There Can Be a Connection between the Disease of Addiction and a Mental Health Disorder
Free Seminar with Annette Franks
M.Ed., LPC, CWC
The Public is Invited
Thursday, November 19th, 2020
9 am – 11 am (Eastern Time)
Guest Speaker:
Annette Franks, M.Ed., LPC, CWC
Annette is a Corporate Wellness Coach and Licensed Professional Counselor licensed by the State of Ohio Counselor and Social Worker Board. She has over 30 years counseling and consulting experience working with individuals, couples, families and companies. www.AnnetteFranks.com
You can watch and ask questions from your own location. If you want to attend through Facebook, we request you register here. Registrants will be sent the seminar handouts prior to the date of the seminar.
A sample of Annette Franks speaking
Registration required
There is no cost to attend the program, but there are limited seats available at the Park Royal Hospital conference center, so registration is required!
Register here by noon on Thursday, November 12, 2020.
Sponsorships
While the lecture is free, we are looking for Sponsorships to cover the estimated cost of $1,500 to put on this event. All sponsors will be recognized on this registration page, the ARCHway Facebook event page, and in communications and updated fliers. If you would like to help out, please sponsor here.
Sponsor Here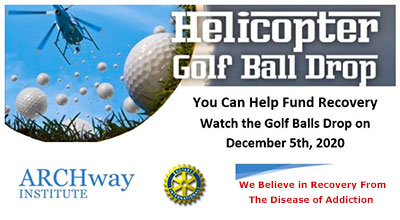 Register today and receive 1 free golf ball in your name!
You might win one of 10 prizes with a total prize list cash value over $10,000. You will also be added to our ARCHway Newsletter Subscription.
For more information about the 2020 Helicopter Golf Ball Drop CLICK HERE