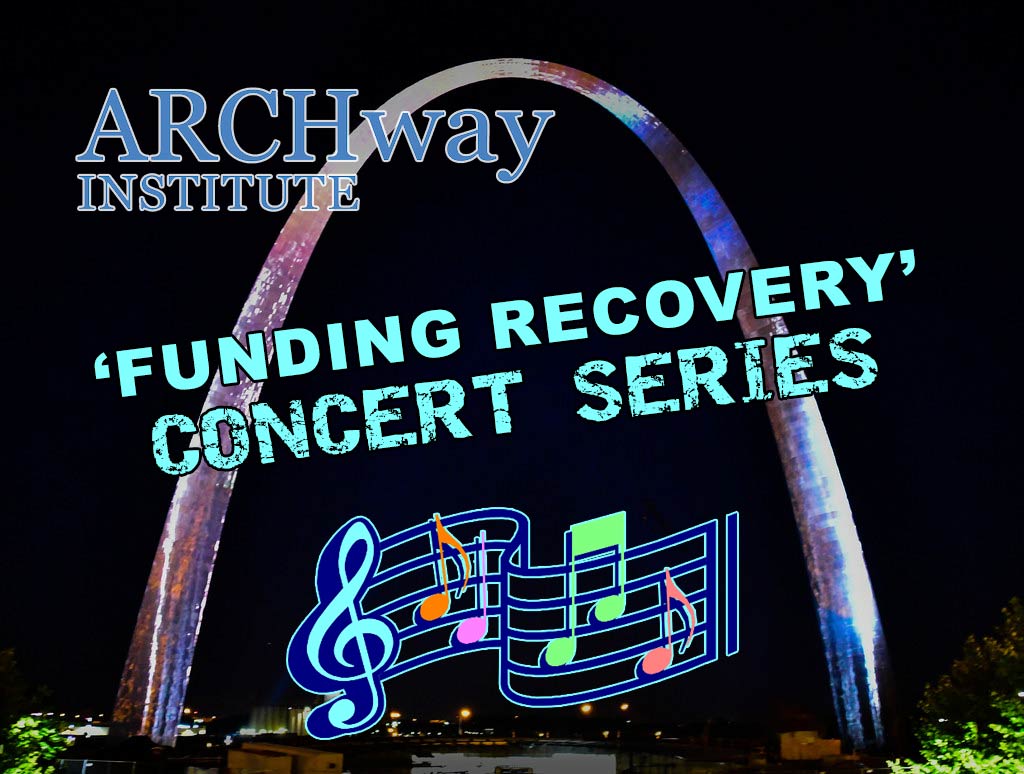 ARCHway is excited to present our
2020-2021 "Funding Recovery" Concert Series
Featuring fantastic artists who have always been followers and supporters of the ARCHway family.
These concerts will be streamed live on the ARCHway Facebook Page.
We hope you enjoy our events. Please donate to the mission of ARCHway Institute if you can.
ARCHway is 90% funded by private donations. Your support will help provide scholarships, counseling & information to individuals, families & communities struggling with the disease of addiction.
'Funding Recovery'
Concert Series Dates
For more information contact Emily at 636-579-2276 or email emily.jung@thearchwayinstitute.org
Brian Douglas Day
Tuesday, Oct. 20, 2020
6:30 CT / 7:30pm ET

THANK you Brian, for a fantastic concert!
Music Preview (YouTube)
Brooklyn Church

Wednesday, Dec 16, 2020
6:00 CT / 7:00pm ET
Honoring these HOPE Fund Sponsors:
Brian Sieve, Justin M. Greenberg, Courtney Collier
Future Concerts TBD
June 2021
September 2021
December 2021
Like all individuals, businesses and organizations, ARCHway has been impacted by the COVID-19 virus. The idea of an ARCHway Concert Series is in response to our limited ability to do in person events, speaking engagements, and industry events. ARCHway is 90% funded by private donations and we cannot thank you enough for your on-going support of our efforts to provide resources and information to individuals, families and communities about the disease of addiction and the most recent evidence based best practices.
ARCHway will be recognizing 3 HOPE Fund Sponsorships at each event. All money raised at each event will be split and put in those HOPE Fund Sponsorships. The ARCHway HOPE Fund is the main vehicle ARCHway has to be able to provide scholarship grants to individuals and families seeking professional help and wanting to start a journey of recovery but currently have financial barriers that keep them from getting the help they need.
ARCHway's goal is to raise $25,000 through this Concert Series. The funds will be used to help fuel our scholarship programs.
ARCHway awards grants in excess of $50,000 per year!
You can sign up and donate anytime for the concert series. It costs nothing to attend our streaming concerts! We only ask that you consider a donation and agree to receive our newsletters. (You may opt out of our e-mailings at any time.)
If you sign up for the concert series by December 1, 2020 you will also receive a FREE GOLF BALL in your name for the The ARCHway Helicopter Golf Ball Drop! This gives you a chance to win 1 of 10 prizes with a total prize package   Value of over $10,000+!
Are you interested in becoming a Sponsor
for this Concert Series?
Sponsorship levels have benefits! These donations are 100% tax deductible. Please notify us of your intent to sponsor by 12/01/2020, in order to be recognized on t-shirt and get your free golf balls.
Presenting Sponsor, $1,000
Recognition by artist during every concert
Recognition on our social media, registration page, flyers, and newsletter
Large logo on our official ARCHway "Funding Recovery" Concert Series t-shirt*
2 official ARCHway concert series t-shirts
3 free golf balls in your name for the ARCHway Helicopter Golf Ball Drop
Platinum Sponsor, $500
Recognition by artist during 4 concerts
Recognition on our social media, registration page, flyers, and newsletter
Small logo on our official ARCHway "Funding Recovery" Concert Series t-shirt
1 official ARCHway concert series t-shirt
1 free golf ball in your name for the ARCHway Helicopter Golf Ball Drop
Gold Sponsor, $250
Recognition by artist once during 2 concerts
Recognition on our social media and newsletter
1 free golf ball in your name for the ARCHway Helicopter Golf Ball Drop
Silver Sponsor, $100
Recognition by artist during 1 concert
Recognition on our social media and newsletter
We thank our
Concert Sponsors
Sign Up for the Concert Series