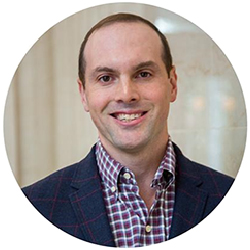 Bynum Jaeger joined Harlan Sports Management in 2013 upon graduation from Tulane University School of Law, where he studied with a focus in sports law.
A graduate of Furman University, Bynum played defensive back on the football team and was a member of Furman's Army ROTC program. After graduation, he was commissioned as a Second Lieutenant and completed two years of law school while working part-time for HSM before receiving military orders to attend United States Army Flight School in Enterprise, AL. He successfully completed flight school in 2012 as a Blackhawk Helicopter pilot and continues to serve the military as a pilot in the Georgia Army National Guard.
A native of Marietta, Georgia, Bynum is married to Dr. Lindsey Riedl Jaeger, a Pediatric Resident at Northwestern Lurie Children's Hospital. They reside together in the River North neighborhood of Chicago. Bynum is an attorney, a Certified Contract Advisor with the National Football League Players Association and a member of the Illinois State Bar.
Bynum is also on the Board of the Ben Lucas Foundation which is focused like ARCHway Institute on helping individuals and families on their journey of recovery.