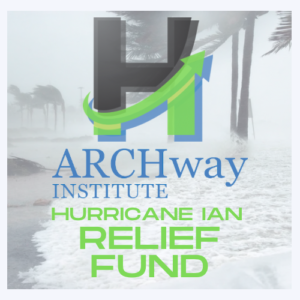 This Hurricane Ian Relief Fund will provide financial support to our behavioral health partners in Southwest Florida.
One of ARCHway's major regions of support is in Southwest Florida. We have worked with those in Charlotte and Lee County a lot over the last 10 years. The ARCHway family has grown in that region to include many individuals and family members, treatment providers, recovery housing providers, and more. Hurricane Ian has devastated this community, claiming lives and damaging everything in it's path. We know many of our partners have been impacted dramatically, and we are called to step in and help the community. Those currently in and seeking recovery still need access to care, and ARCHway will strive to ensure that they have that care despite Hurricane Ian's destruction.
This relief fund will provide financial support to any and all behavioral health, recovery housing, recovery support, and prevention providers in Southwest, Florida who have been impacted by the devastation of Hurricane Ian.