Celebrating ARCHway's 5th Anniversary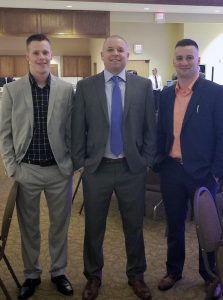 What a special night of celebration at the 5th Annual ARCHway St. Louis Formal Dinner at the LiUNA Event Center!
We celebrated ARCHway's 5th Anniversary in style. We celebrated, we laughed, we cried and we all committed to help change the course of the current addiction disease epidemic happening in our country.
Over 300 people participated. Over $36,000 was cleared from the event; mainly to be used as scholarships to help others start their journey of recovery.
John Stuckey shared his story and vision for ARCHway. Then Roderick Williams shared his own story of recovery. The evening was topped off by honoring Don Willey with the first ARCHway Community Award followed by the creation of the Matt Willey Sponsorship of the ARCHway Hope Fund.
Thanks to everyone for making this a beautiful evening!!!
We would like to give a special thanks to this years committee that put on this event.
Colton Baker
Jordan Hampton
Callan Howton
Eric Gentry
Jeff Stoll
John Stuckey
Donna Whiteley
Dave Whiteley